PEOPLE WHO INSPIRE NATURE LOVERS
John Muir
Founder of Sierra Club, his writings inspired Americans in particular and people in general to rediscover their connections to the mountains and the wilderness. Sierra Club has a whole
web-site
devoted to him.
Here are some inspiring words of John Muir:
Walk away quietly in any direction and taste the freedom of the mountaineer,.Camp out among the grasses and gentians of glacial meadows, in craggy garden nooks full of nature's darlings. Climb the mountains and get their good tidings, Nature's peace will flow into you as sunshine flows into trees. The winds will blow their own freshness into you and the storms their energy, while cares will drop off like autumn leaves. As age comes on, one source of enjoyment after another is closed, but nature's sources never fail.
When we try to pick out anything by itself, we find it hitched to everything else in the Universe.
Wendell Berry
Here is the introduction to an interview with Wendell Berry for Sojourners magazine:
Sojourners associate editor Rose Marie Berger and photographer Ryan Beiler spent a Sunday afternoon in February with Wendell Berry at his farm in Henry County, Kentucky. Berry is the author of more than forty books of fiction, poetry, and essays, including The Unsettling of America, What are People For?, Life is Beautiful, Citizenship Papers, and The Art of the Commonplace. He has farmed in a traditional manner for nearly forty years. Berry spoke with Sojourners about religious practice, Bluegrass country, defending against Wal-Mart, usury, and Jesus.
Read the entire article:
http://www.sojo.net/i...
A poem by Wendell Berry:
The Peace of Wild Things
When despair grows in me
and I wake in the middle of the night at the least sound
in fear of what my life and my children's lives may be,
I go and lie down where the wood drake
rests in his beauty on the water, and the great heron feeds.
I come into the peace of wild things
who do not tax their lives with forethought
of grief. I come into the presence of still water.
And I feel above me the day-blind stars
waiting for their light. For a time
I rest in the grace of the world, and am free.
Rachel Carson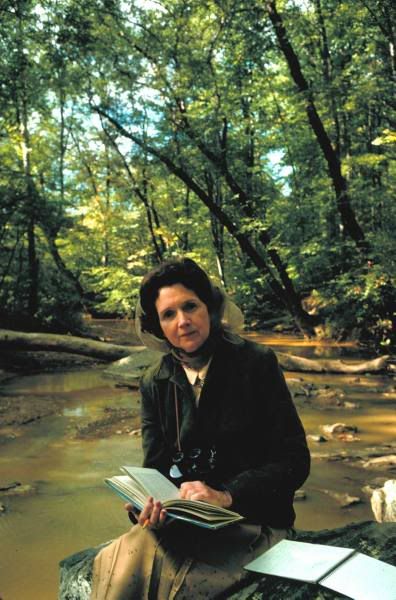 If John Muir were the father of the modern environmental movement, then Rachel Carson might be considered its mother. She is also one of the most influential and inspiring nature writers. She was named as Time magazine's one of the 100 most influential people of this century.
Here is a web-site dedicated to her:
http://www.rachelcars...
Some quotes:(from Sense of Wonder)
"Those who dwell, as scientists or laymen, among the beauties of the earth are never alone or weary in life. . . . Those who contemplate the beauty of the earth find reserves of strength that will endure as long as life lasts."
It is a wholesome and necessary thing for us to turn again to the earth and in the contemplation of her beauties to know the sense of wonder and humility.
Wangari Matthai
Wangari Mathai became the first African woman to win the Nobel Peace prize in 2004. Born in Kenya in 1940, she was cited for her work in sustainable development, democracy and peace. She started the
Green Belt Movement
to protect and plant trees to prevent soil erosion. Affectionately called "Tree Woman" or "Tree Mother of Africa," she is responsible for the planting of over 30 million trees.
Qoutes of Ms. Mathai, from the green belt movement web-site:
From a speech at Radcliffe College, Harvard University, USA, 1994
"The women of the Green Belt Movement have learned about the causes and the symptoms of environmental degradation. They have begun to appreciate that they, rather than their government, ought to be the custodians of the environment."
From an interview on Satya magazine:
Are there things in particular that give you hope?
Well when I plant a tree and I see it grow and if it is a fruit, I see children eat, I feel that's great. Or a tree grows, it gives home to birds, to animals, that's good. I am an action-oriented person, I don't like to talk only, I want to act, because I want to translate my conviction to something that will make a change, and planting a tree is for me a sign of hope and a sign that as long as we are taking action, we can make a difference.
Do you ever go back to the first tree you planted?
Yes [laughs], yes, the very first tree is still there. It is a big tree now, in the middle of a market. Occasionally I go and look at it, and it's doing fine.
Sunderlal Bahuguna
Born in 1927 in a Himalayan village in India, Sunderlal Bahuguna is a Gandhian environmental activist who has played a major role in many movements in India notably the
Chipko
movement. Chipko means literally "hug" in Hindi and so Mr. Bahuguna might be called the original tree-hugger.
From an
interview
with
The Hindu Online
:
"Truth never dies, it ultimately prevails, no matter what. Our goal is to have a comprehensive Himalaya policy to save the hills. The Himalayas are a mountain of emotions, not rocks and boulders, and we must preserve and nurture it to save our culture, to save our souls."