Featured Event
"Want to know what makes makes people
Happy?
-

less than one week to find out!"
Wednesday November 20th • 7:15 pm
(doors open at 6:45 pm)
a film event in support of The Lipstick Project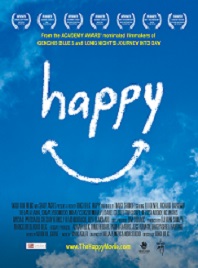 Trailer • Official Site • Cause
Directed by Roko Belic
Year: 2011
Runtime: 75 minutes
Language: English


From the Academy Award-nominated Filmmakers of
GHENGHIS BLUES and LONG NIGHT'S JOURNEY INTO DAY

Winner of numerous Film Festival awards
SYNOPSIS: From Academy Award-nominated director Roko Belic, Happy takes us on a journey from the swamps of Louisiana to the slums of Kolkata in search of what really makes people happy. Combining real life stories from around the world and powerful interviews with leading scientists in happiness research, Happy explores the secrets behind our most valued emotion.
Skype interview with Roko Belic following the screening!

Fact: being in the hospital sucks. Some part of you hurts like hell. You smell. You haven't showered in a week. You pee in a bucket. You breathe recycled air. Your arms resemble a pincushion. Your nails are chipping and your eyebrows need waxing.
The Lipstick Project was founded to enhance the healing process by acknowledging that manicures can be medicinal. They work in partnership with hospitals and hospices to bring a quintessential spa experience to patients who are either in recovery or who are peacefully approaching the end of their life. Read more.
________________________________________________________________
TICKETS
Advance Tickets through Eventbrite

Reel Causes Members $10 • Non-Members $12 •
and save

At Door - CASH ONLY Reel Causes Members $13 • Non-Members $15

Become a Reel Causes Member: Join Here
---
SFU Goldcorp Centre for the Arts
Djavad Mowafaghian Cinema

149 West Hastings Street
Vancouver, V6B 1G8

Supported by Simon Fraser University's Vancity Office of Community Engagement
---